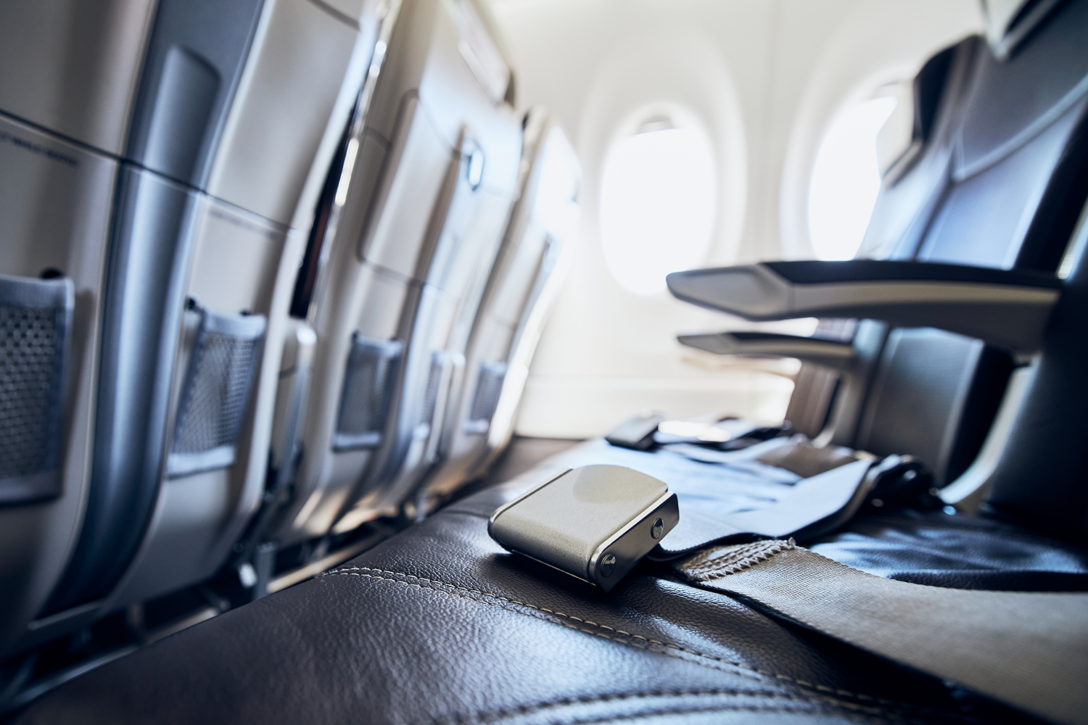 This is part of one of a three-part series exploring the recovery of aviation demand in the United States. Part I discusses the current landscape as leisure-oriented passengers return to the skies. Airline networks, however, are fundamentally different than they were pre-pandemic. Part II will explore whether this new growth and network structure are sustainable and how leisure recovery contributed to overall demand recovery. Part III will address where the industry goes next both from an airport planning and a demand recovery perspective.
Part I – The Current Landscape
Since the beginning of March 2021, air travel patterns in the United States have shown signs of steady increase. Throughput at the TSA checkpoints across the country have recently experienced their first days above 2 million passengers since the pandemic commenced. Rolling seven-day throughputs are hovering around 75% of 2019 levels, as shown in Figure 1. Airlines are beginning to report positive monthly core cash flow and their CEOs have stated publicly that the domestic leisure travel market has returned to near pre-pandemic levels.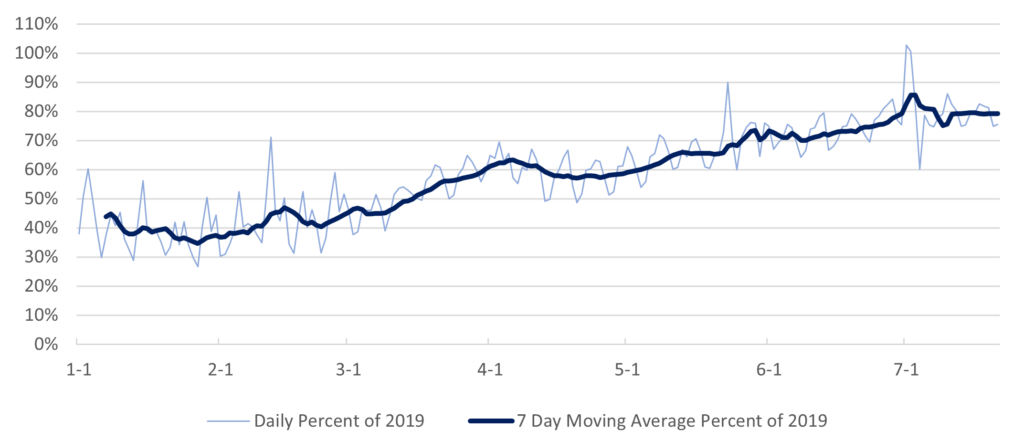 Where is the growth occurring?
As leisure travel returns to 2019 levels, the airline networks formulated to serve a wide spectrum of passengers have fundamentally changed. Notably, there has been a significant rise in point-to-point service as well as service shifts to more leisure-focused markets. These trends can be clearly seen in a state-by-state comparison of air service planned for this summer compared to the summer of 2019, as shown in Figure 2. Montana, for example, has seen over a 13% growth in flights and 17% growth in seats projected for this summer compared to 2019, while South Dakota and South Carolina are projecting growth of over 13% in number of flights and seats. Reasons for this uneven distribution of new capacity could include:
Travel to "wide-open" spaces with less population density for either leisure travel given outdoor recreation was considered more safe than other forms of leisure travel in more densely populated locales.
Some amount of permanent or temporary de-urbanization as some employees recognized an opportunity to work from other locations, given the work from home imperative imposed by the pandemic (which could result in more frequent travel to and from these areas to the large urban centers).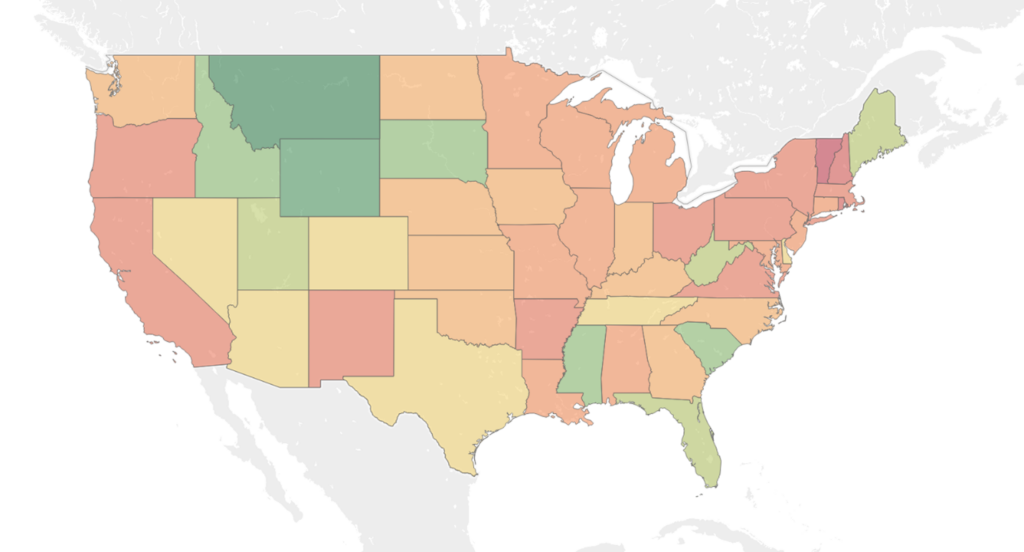 While much of the growth has come from low cost (LCC) and ultra-low cost (ULCC) carriers, the legacy airlines are introducing fundamental shifts to their networks as well. For example:
American is growing their Austin network from nine to over 30 markets.
Allegiant has added 36 new non-stop routes from markets including Austin, San Diego, Indianapolis, and Albany.
Delta is adding or resuming service on over four dozen leisure market routes ranging from Alaska to the mountain West to East Coast beaches.
Southwest has seen its biggest network expansion since 2013, starting services at over 17 airports including both beach and mountain destinations.
Spirit has added over 25 new routes, including service to four new airports.
United has added new point-to-point flights connecting midwestern markets with beach destinations along the east coast.
Additionally, two new airlines have begun leisure-focused service in time for summer by connecting underserved city pairs at competitive fares. Avelo Airlines initiated operations with 11 routes from Burbank to various west coast and mountain west destinations, and Breeze Airways launched with 39 routes primarily from the southeastern U.S. The pandemic has created opportunities for these airlines, including available airport capacity resulting from systemwide service reductions, a surplus of experienced airline staff currently unemployed, and lower aircraft purchase prices.
Fundamental economics are at play in the recovery
Both the demand and supply sides of air travel have fundamentally transformed in 2021 because of the COVID-19 pandemic.
On the demand side, the much-publicized latent demand appears to be manifesting itself as vaccination rollout continues and travelers have reason to book trips with confidence. In addition, with the CDC advising that fully vaccinated travelers can travel freely in the domestic U.S., airlines are experiencing a sudden surge in demand bookings last seen in late 2019. This surge is one-sided however, as demand for business travel remains depressed.
On the supply side, airlines are adapting as quickly as possible. Despite significant fleet reductions by U.S. airlines over the past year, the remaining grounded aircraft are swiftly being returned to service to meet the demand. This return includes increased utilization of international widebody aircraft on domestic routes, such as American Airlines operating Boeing 777 and 787 aircraft on more than 12 daily domestic departures from Miami. Middle seats are once again populated with passengers, seeking that first trip to see family members or deferred vacations. Airline fleet orders and capacity forecasts are being updated to account for the return of this air service demand, with airlines like Southwest and United placing new fleet orders, in addition to their pre-COVID orderbook. These orders include:
In March 2021 Southwest ordered 100 Boeing 737 MAX 7 with the first 30 deliveries anticipated in 2022.
United added orders for 25 new Boeing 737 MAX aircraft in March 2021 and ordered an additional 270 Boeing 737 MAX and Airbus A321neo aircraft in June. The airline now has over 500 new narrowbody aircraft on order.
These new orders coupled with the rescheduling of existing orders will allow the industry to rebuild capacity and address aircraft replacement needs created by accelerated retirements during the pandemic.
At least for this summer, it is the brave new world of airline network planning: which airline proves best prepared to reactivate their assets to meet this wave of leisure demand? In the rush to meet this new demand (and to stay relevant), airlines continue to redraw their network on their Etch-a-Sketch® in this immediate, still-Pandemic era still subject to pandemic restrictions. The Summer/Fall 2021 will feature brand new dots and lines on every airline's network map, looking very different than their past 2019 network.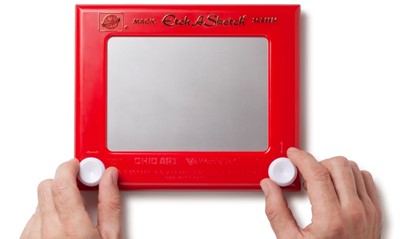 The biggest piece of the puzzle is the revenue side. Much analysis has been conducted to the anticipate a decline in passenger yield, given that the majority of the latent demand will be leisure flying rather than historically higher-yield business travel demand. As booking patterns and demand profiles are fundamentally altered this year, airlines will be faced with the challenge of achieving the largest share of this up-tick in demand at the highest fare levels possible, given that all carriers, low cost and network carriers alike, will be actively pursuing the same traveler segment. An open question, and one that will be explored in the second part of the series, is whether these carriers can sustain profitable operations with a different share of business and leisure traffic or the reduced yields experienced in recent months.
Another important component of supply is the capacity available at airports. There was not much space for new entrants prior to the pandemic, as evidenced by the big four airlines holding 85% of total market share. Now, with all airlines starting at significantly reduced networks, new routes operated by new aircraft types may not be as risky for competitors. In this current leisure-focused market, airlines do not need to weigh as heavily the traditional tradeoffs associated with operating these flights instead of high-frequency, higher-yield business routes. With the reduction in business travel and other regional travel restrictions, it is now possible for new airlines to enter previously highly constrained or slot-controlled airports that could not provide space for growth by competitors prior to the pandemic. This phenomenon is evidenced by JetBlue's and Spirit's expansion at Los Angeles International Airport, Southwest's introduction to Chicago O'Hare and Houston Intercontinental airports, and Allegiant's entrance to John Wayne Airport.
What happens next?
The second part in this aviation recovery series will explore whether this new growth and network map is sustainable and how leisure recovery contributes to the overall demand recovery to pre-pandemic levels.
___________________________________
Authors: Josh Cohn, Marcus Lam
Contact Us
Ready to get started? Let's work together on finding solutions that work for you. Get in touch and let us know how we can help!
Contact Us