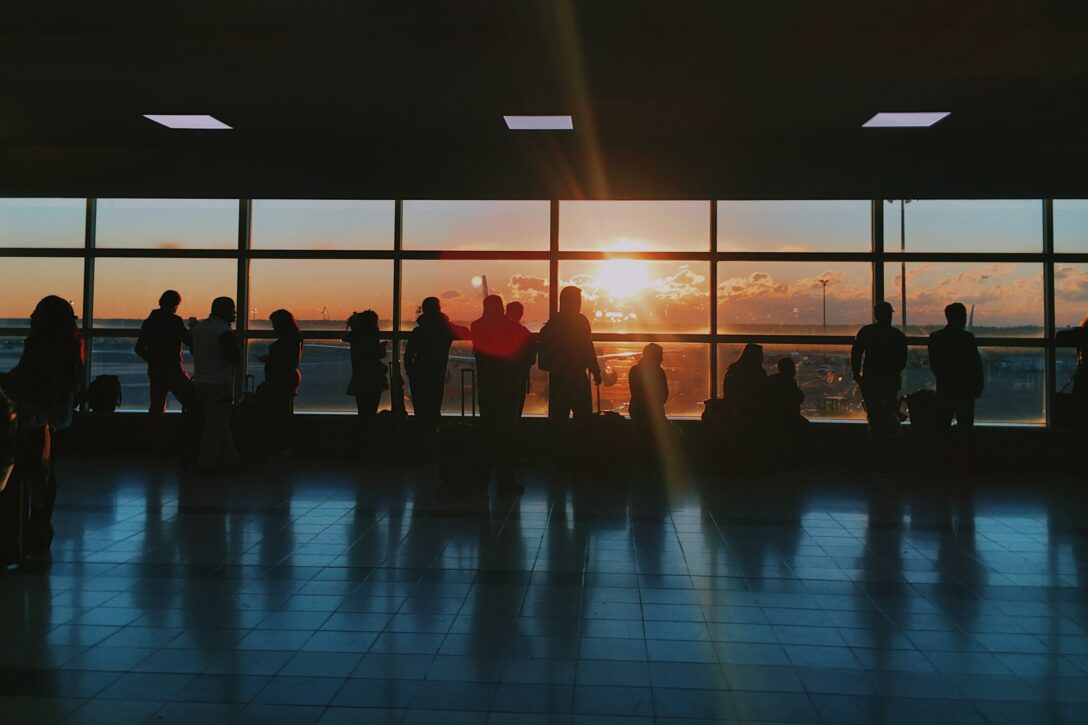 Part II – Is this recovery sustainable?
Airline CEOs have started to use the term "inflection point" to describe a key period in early March when bookings began to increase. Around this time vaccinations were on the rise, positivity rates were declining, and spring break was on the horizon. This sudden upward tick in future bookings and TSA screening numbers has come earlier than many had anticipated, with summer 2021 travel rebounding to between 70% and 80% of 2019 levels. Airlines have also indicated that they have started to turn cash positive with the recent influx in demand. As summer transitions into fall, and people begin to return to school and work, the question is whether this recent boom in travel represents industry recovery or only a small overall step, both from a demand and airline profitability perspective.
Airfares are recovering from historic lows
Ticket prices remained depressed through much of the pandemic to encourage people to travel again since capacity was outpacing demand.
As the industry moved past the inflection point and through the summer travel season, fares started to rise again in many cases. Additionally, U.S. travelers had an estimated $10 billion dollars in vouchers to redeem from trips cancelled during the pandemic. Alaska Air Group reported that in some markets, fares surpassed 2019 levels. In other markets, increased competition by LCCs and ULCCs coupled with a large increase in seat capacity, kept fares low. Through the summer, the average fare on tickets sold was between 20% and 30% lower than during the same time in 2019.
According to Airlines for America, before the pandemic, as much as 50% of an airline's revenue came from business travelers, despite those travelers making up just less than 20% of the airline's customer base. Some leisure passengers with disposable income saved up over the past year, are purchasing first and business class fares, but not at the levels required to counteract the effects of a delayed return in business travelers.
Available seat miles have recovered domestically
Available seat miles (ASMs) are a simple way to measure carrying capacity of a flight to generate revenue. Fewer ASMs traditionally correlates with lower revenue expectations. Of the ten largest airlines in the United States, as shown in Figure 1, three have more ASMs available in July 2021 versus July 2019 and two have fewer than five percent ASMs available. These five airlines, which include Allegiant, Frontier, JetBlue, Southwest, and Spirit, predominately operate a domestic network. Many of these airlines are also classified as LCCs or ULCCs and have been more nimble in reallocating capacity to match leisure demand.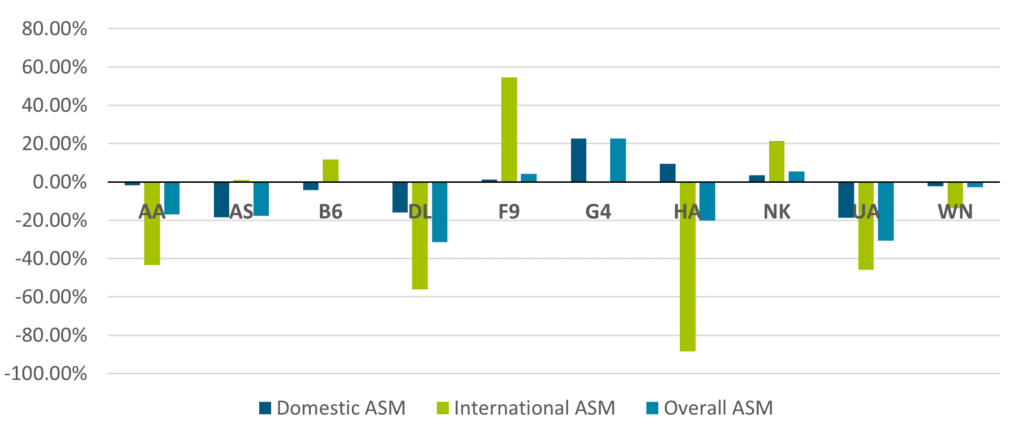 Airlines such as American, Delta, Hawaiian, and United, which operate large international networks that have not yet fully recovered, are still experiencing overall ASM reduction between 15% and 30% compared to July 2019. Overall, across the top ten U.S. airlines, domestic ASMs are down 8%, international ASMs are down 44%, and overall ASMs are down 19%.
Has the industry recovered?
Starting around Memorial Day, the unofficial start of summer, TSA checkpoint throughput across the country had reached about 70% of 2019 levels. By the beginning of August, it was closer to 80% of 2019 levels. This recovery has been fairly smooth since the "inflection point" identified in early March, as shown in Figure 2. It is no surprise, however, that the recovery experienced to date has relied heavily on the return of leisure travel. Domestic ASMs have recovered to above 90% of their 2019 levels, albeit the networks look different this summer than they did in 2019.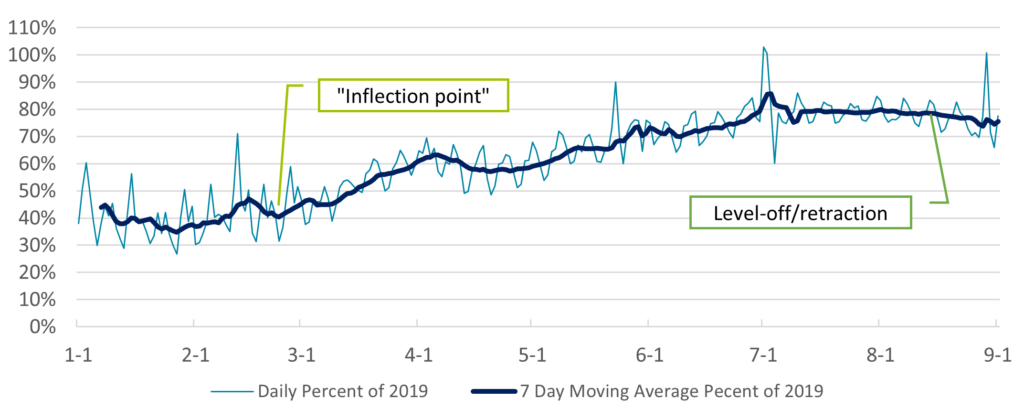 As the summer comes to a close, recovery has started to level-off and even retract slightly toward 70% recovery, even as airlines are able to allocate additional capacity to a domestic/leisure market that has outperformed expectations. By Labor Day, students will be back to school and adults back to work (perhaps not yet in-person given the Delta variant). Since the recovery has been driven primarily by leisure travel, it would not be surprising to see a continued retraction in demand after Labor Day.
The first signs of this are already evident as airlines start to file their schedules for the fall. JetBlue, for example, is cutting more than two dozen routes after Labor Day. Many of these routes were added during the pandemic recovery and focused on bringing passengers to leisure-focused destinations like Florida, which saw a significant increase in seats. As travel patterns continue to change, the drawdown in seats to these destinations is expected to continue. Southwest is also trimming its daily schedule starting on Labor Day to both improve operational resiliency and adjust to the changing environment.
Domestic business travel is still only at about 50% of 2019 levels, per several major U.S. airlines, but airlines are reporting an increase in business travel bookings through their corporate accounts, especially for travel in the fall. Return of business travel is important both for demand recovery but also for profitability, as Airlines for America reports that business travel accounts for up to half of airline revenues. According to the U.S. Travel Association, business travelers in the U.S. directly spent more than $330 billion in 2019.
What does this all mean going forward?
A few conclusions can be drawn from the recovery thus far:
Leisure travel alone cannot represent a full recovery, both from a capacity and revenue perspective. At best this summer, demand recovered to about 80% of 2019 levels but could not do much better. Average airfares are still below 2019 levels, and without high paying business travelers, airlines may be challenged for profitability.

The fall could see a retraction in recovery as leisure travel declines outweigh the slow return of business travel. Airports that experienced demand recovery greater than 80% of their 2019 levels may see a quicker retraction, and on the whole, there may be fewer passengers until the Thanksgiving and Christmas holiday season.

International recovery will continue to lag and is still highly variable based on travel restrictions and the spread of the variants. Even after business travel returns domestically, international capacity will be the last travel segment to recover. Government regulations and testing requirements, coupled with uneven vaccine distribution globally, will continue to hamper recovery of this segment.

Airlines will remain nimble as they try to adapt to changing travel patterns. Schedule filings will be updated frequently as airlines shift capacity. Some newly announced routes may be delayed or cancelled before they even begin.
The final part in this aviation recovery series will explore where the industry goes next both from an airport planning and a demand recovery perspective.
Contact Us
Ready to get started? Let's work together on finding solutions that work for you. Get in touch and let us know how we can help!
Contact Us