Insights on Airport Biometrics
Airports are increasingly adopting biometric technologies, for a variety of reasons and to serve various stakeholders. InterVISTAS writes in ACRP Report 233, that biometrics, in short, are the collection of tools with which airports are aiming to establish trust in identity, enable touchless and seamless flows, and create a more pleasant airport experience for the passengers they facilitate. The potential impact of biometrics is already being trialed and piloted across the world, proving great benefits to the airport operator, airport employers and employees, airlines, travelers, retailers, security personnel and government operations. This article explores some of the insights derived from the research supporting ACRP Report 233.
What are biometric technologies?
Biometrics are biological and behavioral characteristics of a person, which can be used by a system to recognize someone or verify someone's identity. Some of the common types of biometrics include fingerprint, iris, facial and voiceprint recognition. Many of these are increasingly found in consumer electronics such as smartphones or laptops to unlock devices for use, to confirm mobile payments, or for building access control, or enabling access to a controlled environment. Biometric technologies span a family of different tools/devices/storage mechanisms, each with different implications.
Five key use cases of biometric technologies are shown here: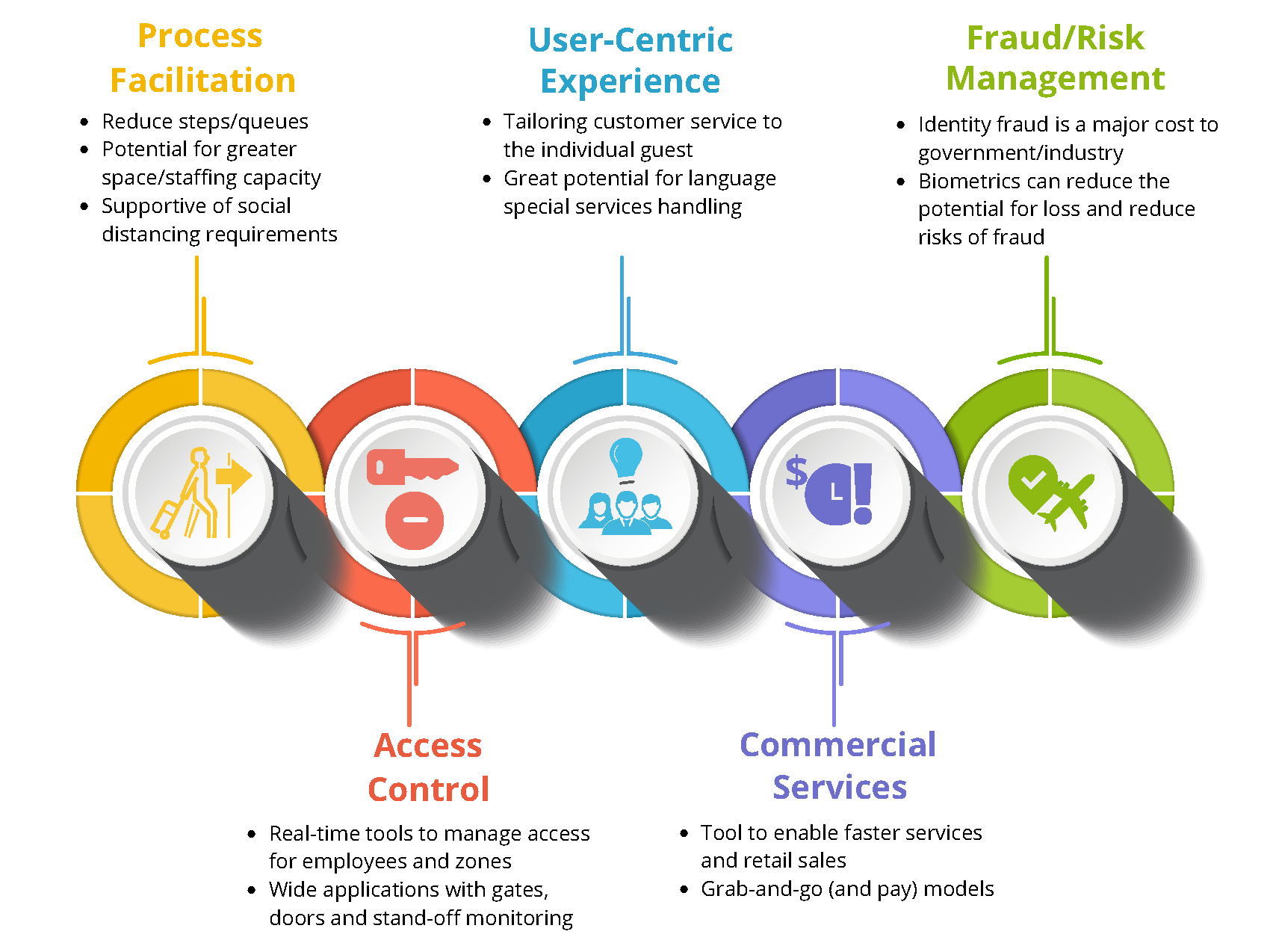 Trust in identity
From credit card fraud to intercepting imposters, biometrics can provide a greater degree of identity verification than many other types of identity methods. Already common at airports across the globe, e-Passports store a digital biometric that can be compared to the biometric of the person presenting the document, to verify that you are who you say you are (a positive identity match). Technology accuracy has improved significantly over the last 5-10 years, especially facial recognition. Internationally, standards are being developed for digital identity credentials (e.g., a digital passport), removing the need for a physical document. Similarly, after the COVID-19 pandemic, an increase in health checks at airports has given rise to digital health certificates (proof of a test or vaccination), were credentials and apps rely on biometrics to verify the identity of the person presenting the credential or certificate.
Seamless flows
As with many visions for a single form of identification presented, biometrics can minimize the need to carry and present a number of documents such as passports, visas, health certificates, boarding passes, etc.). In enabling a seamless passenger journey through the airport, biometrics can provide not only the necessary identification verification at security and border touchpoints, but also at retail stores (scanning a boarding pass), at home using a personal device (for on-line check-in), for e-commerce orders in the terminal, for payments to airlines for additional services, for accommodation, transport services at the destination, and more.
With so many options, airports and airlines are faced with the question in which parts of the passenger or employee journey should the use of biometrics be considered? More specifically, in the use of biometrics in process improvements, airports and their stakeholders are advised to ultimately balance decisions on factors such as the passenger demand, the capacity of their facility, operational requirements and stakeholders, and the level of customer service they wish to attain. Below is an example of how border processing using biometrics can radically change both resources, accessibility, and necessary floor space.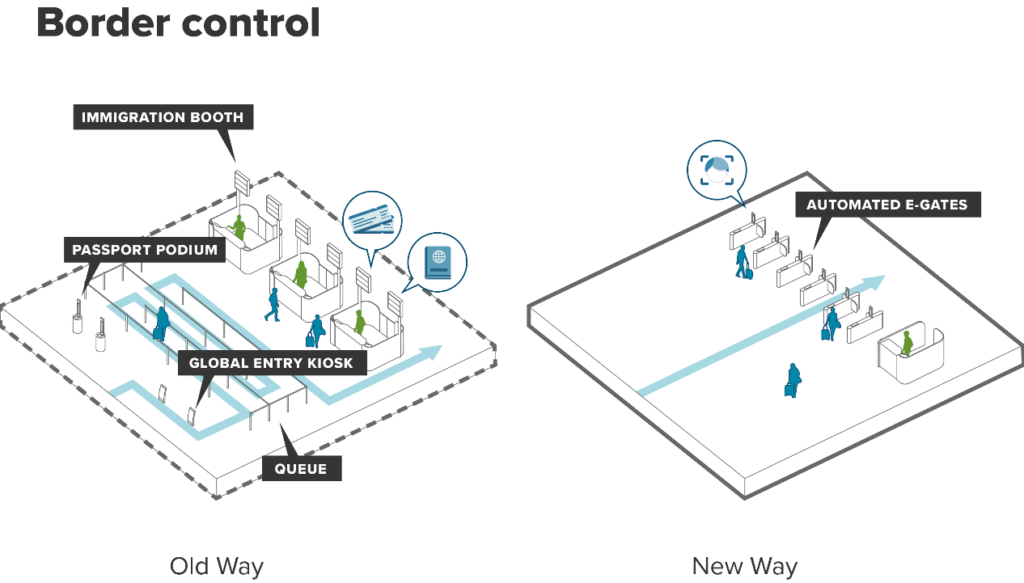 Touchless airport experience
Impacted by the role that aviation had in the spread of Covid-19, prevention of communicable diseases at facilities processing large numbers of passengers, have become a priority, and biometrics can help to minimize contact with disease-transmission media/surfaces (with staff or devices). Several technologies today can scan a biometric at a distance, and thus touchless, with the primary examples being facial recognition, 3D palm or fingerprint scanning.
Increased capacity for airports
Airports with capacity constraints will be the early adopters regarding the use of biometrics given the imperative that any incremental benefit, regardless of magnitude, may offer a meaningful overall improvement. While discussed in more detail within ACRP Report 233, critical factors to be considered are:
Would a small increase in capacity or level of service be meaningful to the overall experience of the population affected?
Are there reasons besides capacity enhancement and security to implement biometrics, such as the desire to reduce staffing costs or improve the reliability of certain processes?
Several airport passenger facilitation processes shown in this diagram can be greatly influenced by biometrics. Find out more on how each of these processes might be impacted in the ACRP Report 233.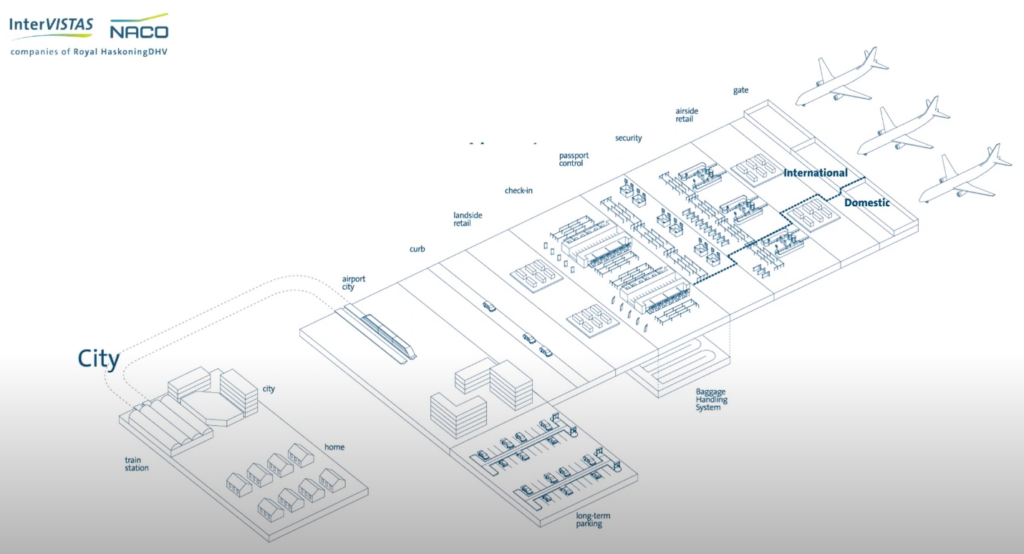 Interoperability
With the overall trend of biometrics moving to multi-stakeholder solutions, interoperability means a single biometric system that can be used by airport operators, airlines, governments or third parties within the airport environment with the ability for identity verification to be used throughout the journey.
Interoperability examples in other industries provide examples to the aviation industry. In banking, there was a point in time in the 1980's when every bank had a separate system for every ATM. Over time, interoperability was achieved so that you could use a Bank of America ATM card at a HSBC Bank in France.

Scalability
Implementation of biometric technologies that have successfully been tested in trial and pilot programs, the scalability of a solution is achieved when, by adding more and more modules the solution can facilitate a larger population of travelers, accommodating (if not to all) to many more than just the tech-savvy, or the frequent flyer. Biometric technologies are ideally positioned for this because biometric characteristics are universal and can be implemented to be inclusive to all types of people. Robust solutions do not rely on a high rate of passport ownership or Trusted Traveler program memberships.
Scalability planning dictates a pathway to enable more modules to be added, for example for rental cars, airport retail or even other uses outside airports. A private third-party that has demonstrated scalability is CLEAR® which offers identity verification as a service through a paid membership, with clients including Major League Baseball and National Football League, using the same biometrics for airport applications.
Moreover, in making the technology more user-friendly and understandable to the general public, concepts such as Digital Trust in the Public Realm (DTPR) are helping bring about greater transparency and accountability with the use of the technology, as well as providing a platform for interaction and feedback.
An example of biometrics applied at check-in and bag drop, greatly simplifying the process, and reducing the required footprint: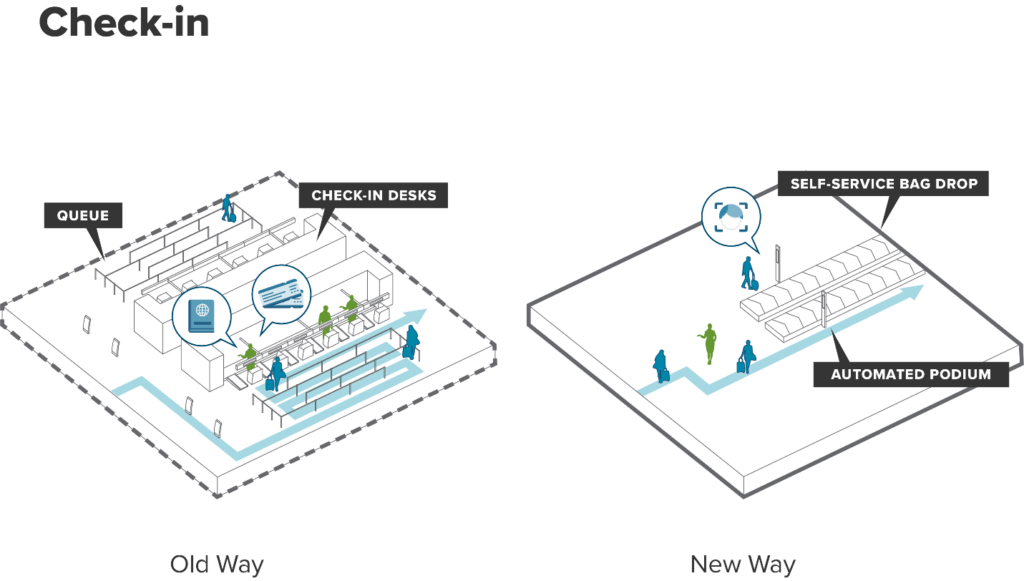 5 Biometric Technologies Trends
The deployment of integrated and multi-stakeholder biometric solutions is increasing, given its greater potential benefits.
Digital transparency & privacy concerns are adding to the complexity of implementation, particularly as the legal landscape changes.
A focus on identity verification solutions is evident, in part, to distinguish from mass surveillance programs that also leverage biometrics.
Global biometrics and standards are emerging from a variety of governmental and non-governmental entities which are addressing privacy, security, ethical, and technological concerns.
Smartphones are expected to enable greater use of biometrics through the on-device storage capability for biometrics, increased ease of use as well as the promise to be able to present digital travel credentials.
Return of Investment?
Airport operators are advised to review the pros and cons of specific biometric implementations to decide whether implementation is warranted. In most cases, the return on investment (ROI) for the airport operator goes beyond strictly financial considerations for the implementation of biometric solutions. Instead of making decisions based solely on the financial ROI, airports are advised to evaluate several additional considerations such as customer service, airport technology goals, passenger safety, operational efficiency, and competitive concerns.
In the above considerations, the potential benefits to the airport and associated stakeholders to implementing biometrics should both be valued. A phased implementation can be chosen, or a selective implementation, choosing where the technologies are the most impactful and for the least amount of investment. Decision around who is paying for the up-front capital investment and the ongoing operations and maintenance of the equipment should be discussed with all stakeholders.
Legal and Policy
To pursue biometrics as potential solutions to challenges in aviation, air industry stakeholders need to understand the legal, policy and privacy issues associated with the use of biometric data. The two predominant policy and legal issues associated with the use of biometric data, including facial recognition, are the protection of privacy rights and the inconsistent treatment of biometrics under a myriad of international, U.S. federal, and U.S. state laws.
While the predominant concern under the U.S. Constitution is the right to privacy, another significant concern is the fact that in the absence of a comprehensive national law, the 50 states have passed laws, a handful of which limit/prohibit the use of biometric data specifically, some of which address sensitive personal data, and all of which require action and notices upon breach of the systems. Many of these laws impose sanctions for failing to meet requirements pertaining to collecting and protecting biometric data.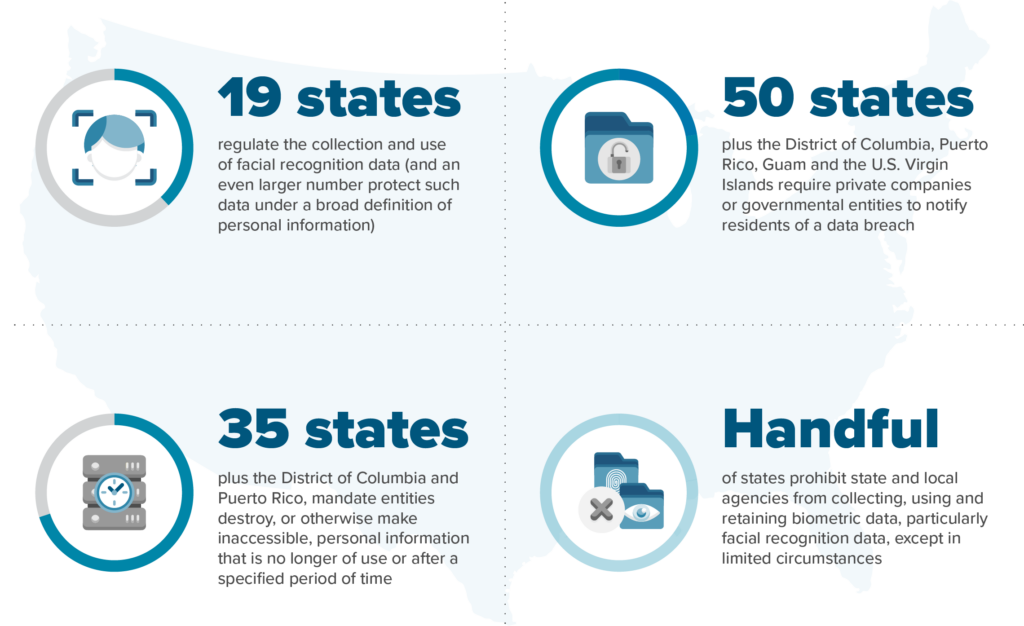 Another trend is the development of laws and restrictions by other countries, the EU, and international organizations, some with a broad reach that may impact airport operators and airlines in the United States, to include the assessment of penalties for non-compliance.
There are many sources of best practices for the protection of personal privacy. These include Privacy by Design, 2019 EU Data Protection Guidelines, and Fair Information Practice Principles which offer guidance on transparency, adoption of policies and practices that incorporate privacy protections, communication tips, and other similar practices.
Below, several of the Privacy by Design Principles:

Conclusion
Planning must focus not only on cost considerations, but also but also must address and incorporate appropriate data security and protections, legal compliance, public messaging, scalability, etc. Air industry stakeholders should monitor emerging technological developments, changes in legal and policy trends, and international organizations' global initiatives.
To read more on the topics above, use the link below to download our publication from the ACRP website: ACRP Report 233: Airport Biometrics – A Primer.
Download the full report here.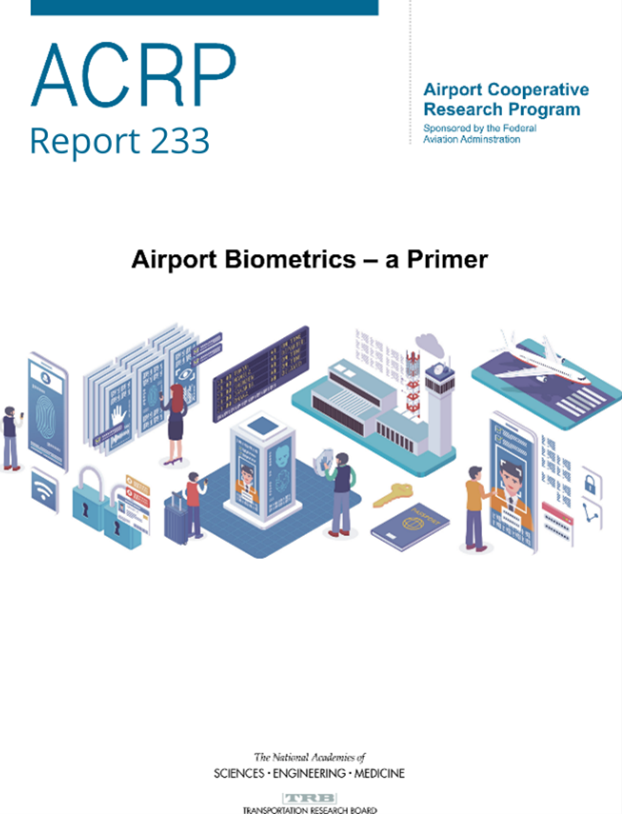 Contact Us
Ready to get started? Let's work together on finding solutions that work for you. Get in touch and let us know how we can help!
Contact Us